At QUADRANT TELEVENTURES LTD (formerly known as HFCL Infotel Ltd), all our energies are focused on realizing our vision - 'To be the most admired telecommunication and infotainment service brand through innovation and excellence'
Connect Broadband has introduced Connect Darshan services which provides live video & audio streaming from the 20 most revered religious shrines across India 24x7 365 days the uniqueness of service created fairly strong differentiator and strong emotional connect with our customers which has been much appreciated by the service users as the most unique and innovative service offering in the recent times. Below are the shrine list available with us: Shrine List :
Siddhivinayak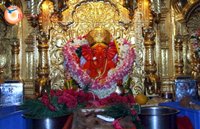 Deity : Ganesh
State : Maharashtra
District : Mumbai
Date built: November 19, 1801
The Siddhivinayak temple receives donations of around INR 100-150 million every year, which makes it Mumbai city's richest temple trust
Temple glory was bought not only by the politicians who frequented the temple but also Bollywood film stars who continuously visit to seek the blessings of Lord Ganesha.
Dagdusheth Ganpati-Pune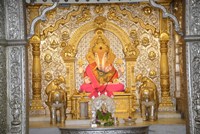 Deity : Ganesh
State : Maharashtra
District : Pune
Date built: 1893
Devotees of the temple include celebrities and Chief Ministers of Maharashtra who visit during the annual ten day Ganeshotsavfestival.
The main Ganesh idol is insured for sum of INR 01 crore
The HalwaiGanapati Trust carries out philanthropic work from the donations received, and is one of the richest in Maharashtra
Kashi Vishwanath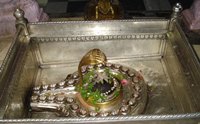 Deity : Shiva
State : Uttar Pradesh
District : Varanasi
Date built: 1780 -Rebuilt
The holiest place of Hindus, where at least once in life a Hindu is expected to do pilgrimages
The current temple was built by AhilyaBaiHolkar, the queen of Malwakingdom
Maharaja RanjitSingh donated Gold for the Temple
28 lakhs visitors recorded during hindushravanmonth .
Mahavir Hanuman -Patna

Deity : Hanuman
State : Bihar
District : Patna
Date built: 1947 (rebuilt )
Million of pilgrims visit the temple every year and is the second most visited religious shrine in North India
Thousands of people visit Mahavir Mandir on every Ram Navamiand New Year celebration
On every Ram Navami waiting queues grow up to some kilometer long.
Gurudwara -Patna Sahib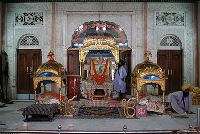 Deity : Guru GranthSahib
State : Bihar
District : Patna
Date built: First build -18th century
First Rebuild -1839
Final Rebuild -November 1954
The Gurdwaraat Patna Sahib was in remembrance of the birthplace of Guru Gobind Singh Ji the tenth Guru of the Sikhs
This is one of only five Takhatsor Holy Seats of Authority of the Sikhs
7000-9000 devotees visit every day
Omkareshwar - M.P.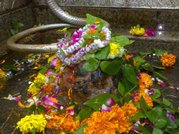 Deity : Lord Shiva
State : Madhya Pradesh
District : Omkareshwar
It is one of the 12 revered Jyotirlinga shrines of Shiva
Omkareshwaris formed by the sacred river Narmada. This is one of the most sacred of rivers in India
13.5 million devotees visited in year 2012
Mahakaleshwar - M.P.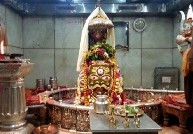 Deity : Lord Shiva
State : Madhya Pradesh
District : Ujjain
Date built: 4th-5thdecade of 18thC. AD
It is one of the 12 Jyotirlingams, which are supposed to be the most sacred abodes of Shiva
The idol of Mahakaleshwaris known to be dakshinamurti, which means that it is facing the south. This is a unique feature, upheld by the tantric shivnetratradition to be found only in Mahakaleshwaramong the 12 Jyotirlingas
Major attactionis BhasmaAarti performed at 4am daily
Somnath - Gujarat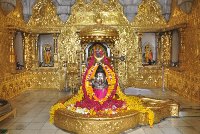 Deity : Shiva
State : Gujarat
District : GirSomnath
Date built: 1951 (Present Structure)
Shree Somnath isfirst among the twelve AadiJyotirlingsof India
It has withstood the six-repeated desecration by the Muslim invaders. The very existence of this temple is symbol of reconstructive spirit and cultural unity of our society
The seventh existing temple is built in the Kailas MahameruPrasad style. The Iron man of India Sardar Shri Vallabh bhai Patel is the pioneer of the existing temple.
Isckon - Juhu Mumbai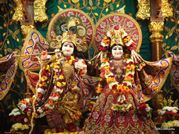 Deity : Radha & Krishna
State : Maharashtra
District : Mumbai
Date built: 1978
Hare Krishna Land (ISKCON Juhu) is set upon four acres of prime land and a stone throw away from Juhubeach.
A.C. BhaktivedantaSwami Prabhupada, founder of ISKCON, inspired the construction of one of India's most beautiful temple of Lord Krishna in Mumbai
Today the magnificent temple complex is one of the most visited in the country
Isckon - Vrindavan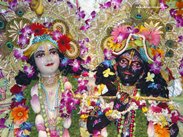 Deity : Balram & Krishna
State : Uttar Pradesh
District : Mathura
Date built: 1975
From 1965 to 1977 SrilaPrabhupadatoured the world thirteen times establishing 108 ISKCON centresin his lifetime
One of the main sights of Vrindavan
Dargah - Fathehpur Sikri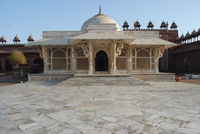 Deity : Dargah Salim Chisti
State : Uttar Pradesh
District : Agra
Date built: 1573
Fatehpur Sikrisits on rocky ridge, 3 kilometresin length and 1km wide, and palace city is surrounded by a 6km wall on three side with the fourth being a lake at the time
SalimChishti(1478 -1572) was a Sufi saint of the ChishtiOrder during the Mughal Empire in South Asia
There is also a ritual of tying a thread at the marble windows of this Dargahto in order to have one's wishes fulfilled
HazurSahib -Nand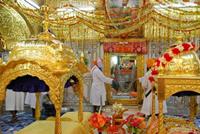 Deity : Guru GranthSahib
State : Maharashtra
District : Nanded
Date built: 1832 to 1837
TakhtSachkhandShri HazurAbchalnagarSahib is one of the five takhts
It marks the site where Guru GobindSingh had his camp in 1708, after the departure of the Emperor BahadurShah
In October 2008, the 300th anniversary celebration of the Gurushipof Guru GranthSahib took place.
The tenth Guru held his court and congregation here.
Govind Dev Ji - Jaipur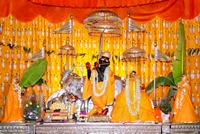 Deity : Krishna
State : Rajasthan
District : Jaipur
Date built: 16th Century
The temple is dedicated to GovindDevJiLord Krishna
For Vaishnavites, particularly followers of Lord Krishna, this is one of the most important temples outside Vrindavan
'Aartis' and 'Bhog' are offered seven times a day, when the deity is unveiled for 'Darshan'.
Thousands of devotees visit the temple daily and even larger number visit during Janmashtami
NainaDevi - Bilaspur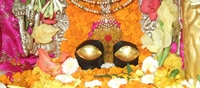 Deity : MaaDurga
State : Chhattisgarh
District : Bilaspur
It is one of the 51 Shaktipeethswhere limbs of Sati fell on Earth
This holy place witnesses the huge crowd of pilgrims and devotees round the year and especially during ShravanAshtamiand in the Navratras of Chaitra& Ashwin